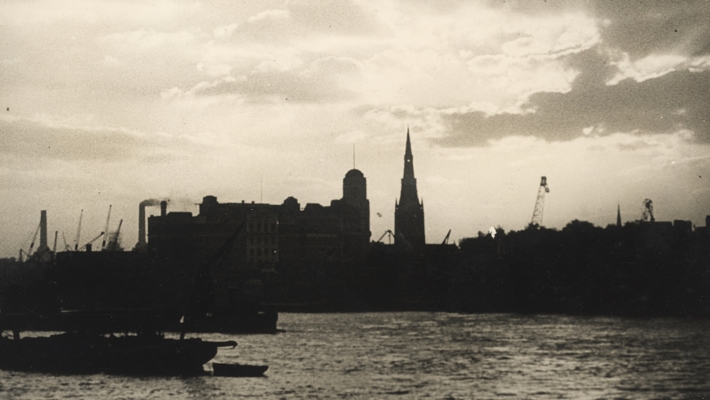 To celebrate the 75th anniversary of Listen To Britain, Humphrey Jennings and Stewart McAllister's poetic collage of British life, BBC Four in partnership with BFI Network, have commissioned aspiring filmmakers to capture the diversity of contemporary Britain in a series of new short films.
Following a premiere at BFI Southbank in September, there is an opportunity for the films to be broadcast on BBC Four.
After a competitive submission period, 12 exciting projects from a range of innovative new voices from across the whole of the UK were selected for the originality of their idea and the individuality of their filmic voice. The 12 successful directors were announced today at Sheffield Doc/Fest by BBC's Cassian Harrison and Emma Cahusac and Wingspan's Archie Baron and Deborah Lee.
Receiving awards of up to £5,000, the filmmakers will create unique interpretations of British life, taking inspiration from the original Listen To Britain, which pioneered a new form of documentary filmmaking.
Working with BFI Network, the UK-wide programme discovering and supporting the next generation of writers, directors and producers, the production of the shorts is being overseen by Wingspan Productions.
The following directors and projects are now in production:
• Alex Campbell will utilise home videos and filmed interviews to create a poetic montage of stories from around the UK, showing our similarities are greater than our differences.
• Amrou Al-Kadhi will consider the UK's obsession with period dramas despite their failure to reflect modern diversity, and what it means for those excluded from this vision of Britain.
• Callum Rice will explore the last Corporation Bus Garage in Glasgow and examine how our lost industrial past is providing hope for the future.
• Catherine Harte will visit an accent training school to discover the importance that some people place on speaking 'the Queen's English'.
• Florence Kennard shines a light on dog therapy, and through one special dog explores the lives of marginalised and often overlooked people.
• Gareth Johnson will partner with Poetic Unity, an organisation that encourages young people to engage with their issues through poetry and spoken word.
• Hermione Russell will create an intimate portrait of a 24 year-old female poet and artist with Downs Syndrome.
• Maia Krall Fry will examine four of the internet's biggest young female stars , considering their complex relationships with their followers and how it shapes their sense of self, on and offline.
• Marcus Armitage will use animation to delve into a day in the life of Yorkshire, the place where he grew up.
• Michael Ho will question what it means to be 'authentically British' having been born to a British mother, a Chinese father and raised in Milton Keynes.
• Ruth Grimberg will create a sensitive portrait of a quintessentially British family who share their home with Ahmed, a young Kurdish man who fled Syria.
• Theodore Tennant will look at South Wales through the eyes of a local taxi firm.
Cassian Harrison, Channel Editor, BBC Four, says: "These filmmakers all offer unique and different perspectives on modern Britain, however they are united in their strength of voice and commitment to innovation. It is incredibly exciting - and absolutely right - for BBC Four to be opening its doors to new generations of filmmakers like this, and to be bringing fresh perspectives to our audiences."
Matimba Kabalika, BFI Network Manager, says: "This is such a timely and inspiring commission for these emerging filmmakers. Using a groundbreaking British documentary as a starting point to create a short for television, has given them a chance to develop their storytelling skills in a different way. It has been great for BFI Network to work with BBC Four and Wingspan to offer this opportunity to filmmakers from across the UK, and from the quality and scope of the projects that are now in production, I am excited to see the finished films."
Deborah Lee, Executive Producer for Wingspan Productions, says: "Recent dramatic events demonstrate just how relevant, complex and intriguing it is to take the temperature of the nation and 'Listen To Britain' again. We are thrilled to be supporting these emerging filmmakers as they make their first foray into television and excited to be involved in producing a set of films which together will create a very special snapshot of our fascinating times."