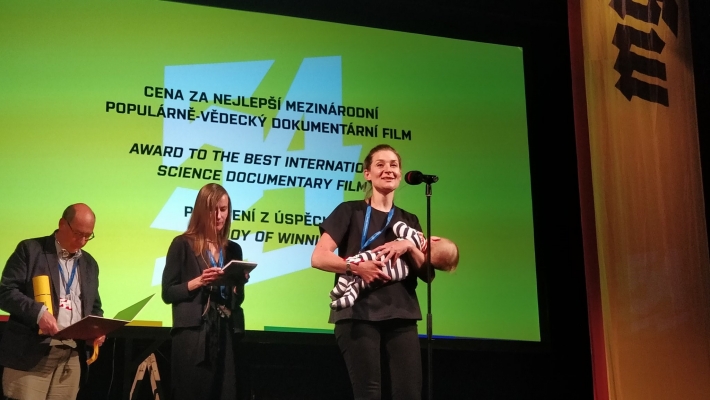 28th April 2019 – 'The Joy of Winning' won the top prize – Best International Science Documentary – at Europe's leading Science Film Festival, AFO in Olomouc. Producer/Director Cat Gale, accompanied by baby Theo, and Executive Producer Archie Baron were themselves full of the joy of winning as they took the stage at the beautiful Czech city's opera house to accept the prize at the climax of the gala Awards' Ceremony.
More than 3000 films were entered for the 54th edition of AFO (Academia Film Olomouc) and 39 films from 15 countries were selected for international competition which jury chair Paul Lewis described as 'so many exceptional documentaries… an abundance of riches making for a very competitive category'.
Awarding the top prize, the jury's official citation declared: 'this clever, engaging film was fun and entertaining to watch from beginning to end, despite a topic that's abstract, challenging and incredibly complex. Even so the film-makers have done a brilliant job of finding creative examples, analogies and perfectly told stories, all with the help of an engaging host to make the complex world of game theory very real, understandable and even relevant'.
Honourable mentions also went to Sundance Festival Favourite award-winner Science Fair, Adam Bolt's feature doc about CRISPR Human Nature and Derek Mueller and Sonya Pemberton's film Vitamania.
(photo above: Karl Byrne)