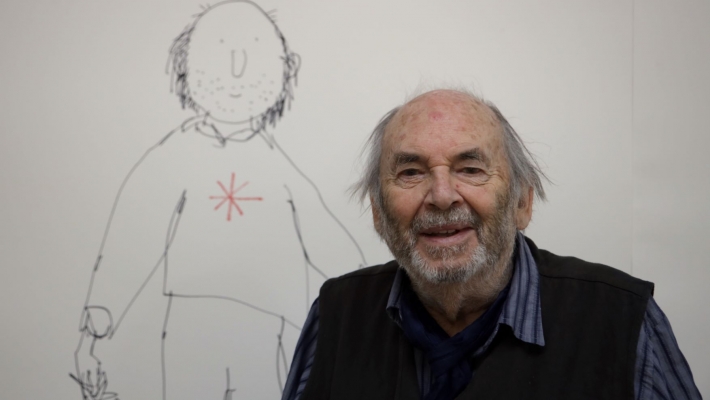 Quentin Blake: The Drawing Of My Life
In this warm celebration of one of Britain's best loved artists, the illustrator and author Sir Quentin Blake tells the story of his 70 year long career: in his own words, and with his own pictures.
Especially for this documentary, he's shown creating an extraordinary new work: a canvas 30 feet long and 7 feet high, on which self-portraits and classic characters emerge before our eyes, in the instantly recognisable style that's fired the imaginations of several generations of children and parents. There are fascinating insights into his famously fruitful collaboration with Roald Dahl, who once declared that "when people picture the BFG, what they see is Quent's drawing" (though Blake does show some initial drawings of the giant which his collaborator rejected). The film also proves there is a lot more to the first-ever Children's Laureate than Matilda and The Twits, exploring his work for adults as well as children, and revealing he's still as creative as ever at the age of 88. It's the first documentary to be dedicated to Quentin, and features contributions from some of his closest collaborators and biggest admirers – among them David Walliams, Michael Rosen, Lauren Child and Chris Riddell - as well as readings by Joanna Lumley, Peter Capaldi and Ore Oduba - all of them magically woven into the hand-drawn world of Blake.
Quentin Blake: The Drawing of My Life is a Wingspan Productions production. It was commissioned for BBC Arts and BBC Two by Mark Bell. It is produced and directed by Peter Sweasey. The Executive Producer is Archie Baron.
TX: 2021